A Great Presentation without the Hassles!
"There are hundreds of ways to communicate with your audience, boring them with the truth should not be one of them!"
When you bring Steven Iwersen, CSP to your convention or training experience, you can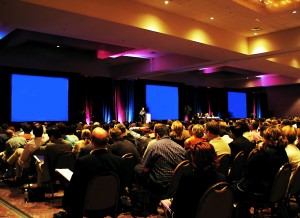 count on a style that is genuine, entertaining, loaded with meaningful content, and inspiring! He has a very natural presence upon the stage that causes people to feel that he is having a conversation just with them. He is a master storyteller, a jazz singer, and has a great sense of humor. Don't be surprised if his presentation for you includes all of those elements!
Click on the options below for more information:
For Leadership Development Training for your organization or personal coaching, contact Aurora Pointe
What People Are Saying About Steven Iwersen:
"I love Steven Iwersen's leadership presentations. His stories "connect" with his audiences, including me, and I've noticed that people talk about his stories and examples long after his presentations have ended." – Chuc Barnes
"Steven Iwersen is a dynamite speaker who brings his audience into his subject matter and makes it come alive. His professionalism and integrity, on the stage and off, make him a speaker that works well with any audience." — Kathleen Randall, CEO Randall Resources International
"Steven has a dynamic speaking style that establishes rapport and credibility. His passion for developing leaders produces rich insights and personal empowerment." – Cathy Newton, Owner PRT Consulting
"I am amazed at Steven's storytelling ability! He needs no props because he creates the impression of setting and proximity as he sets the stage for the point he wants his audience to receive. What a pleasure to hear his musical talent and sense of humor permeate leadership development content. He delivers multi-sensory learning to engaged participants–the ingredients for results." – Karen Anderson